You can now pay on line for tuition, testing fees, and other items which the dojang has to offer.
WELCOME TO THE WEBSITE OF OUR WONDERFUL TAEKWON-DO SCHOOL- LET YOUR JOURNEY BEGIN!!

Please call 215-479-3440 with any questions.
Click here for a waiver to be signed to attend a BUDDY NIGHT or SELF-DEFENSE CLASS
Click here for our BASIC SELF-DEFENSE BOOKLET
______________________________________________________________________
UPCOMING EVENTS
We'd like to thank the students, families and friends who came out on Saturday March 18 to clean our "adopted highway" route 113 from Allentown Road to Schoolhouse Road.  Special thanks to
MASTER GENE NEDEROSTEK, JOEY DRUCKENMILLER, NIKKY DRUCKENMILLER, ARIANNA DRUCKENMILLER, TESS MOHR, KATE MOHR, ALEXANDRE PECORA, JENNIFER ROSENBLUM,
MARC ERSKINE, FAY DOLAN, DAN DOLAN, CLAUDIA ROONEY AND PEYTON WEAVER
Thursday, March 30, 2023– 3rd DAN Dr. Frank Ciuba will give a class on stretching for Taekwon-Do from 7-8 PM.   All students are invited.  This special class will also be on ZOOM.  The ZOOM Meeting ID  856 0025 0448  Passcode 674539
https://us02web.zoom.us/j/85600250448?pwd=V0s4WWtSQ1JNU243TUxGblY1SEZDQT09
On Thursday, April 6, 2023, we have planned a WOOD BOARD BREAKING OPPORTUNITY!!  What this means is if any of our students wish to attempt to break an already set record or create a new break, they should check our website click under HISTORY on BOARD BREAKING RECORDS.  Students who wish to participate should let Master Cashatt know your plans and start immediately with preparation. 
2023 Black Belt Spring Training Weekend at Camp Innabah is scheduled for April 14-16, 2023.  REGISTRATION IS NOW OPEN and we have a cap of 25 participants!  Register NOW on our website homepage.  This is for ALL BLACK BELTS age 18 and above.  It a serious weekend of Taekwon-Do workouts, serious fun that is.  We can really sink in to the finer points of our training.  Plus we get away from the real world for a weekend! SCROLL UP TO THE BUTTON FOR BLACK BELT SPRING TRAINING!!
2023 UATW (Ultimate Adult TKD Weekend) at Camp Oak Hill is scheduled for October 6-8, 2023.
__________________________________________________________________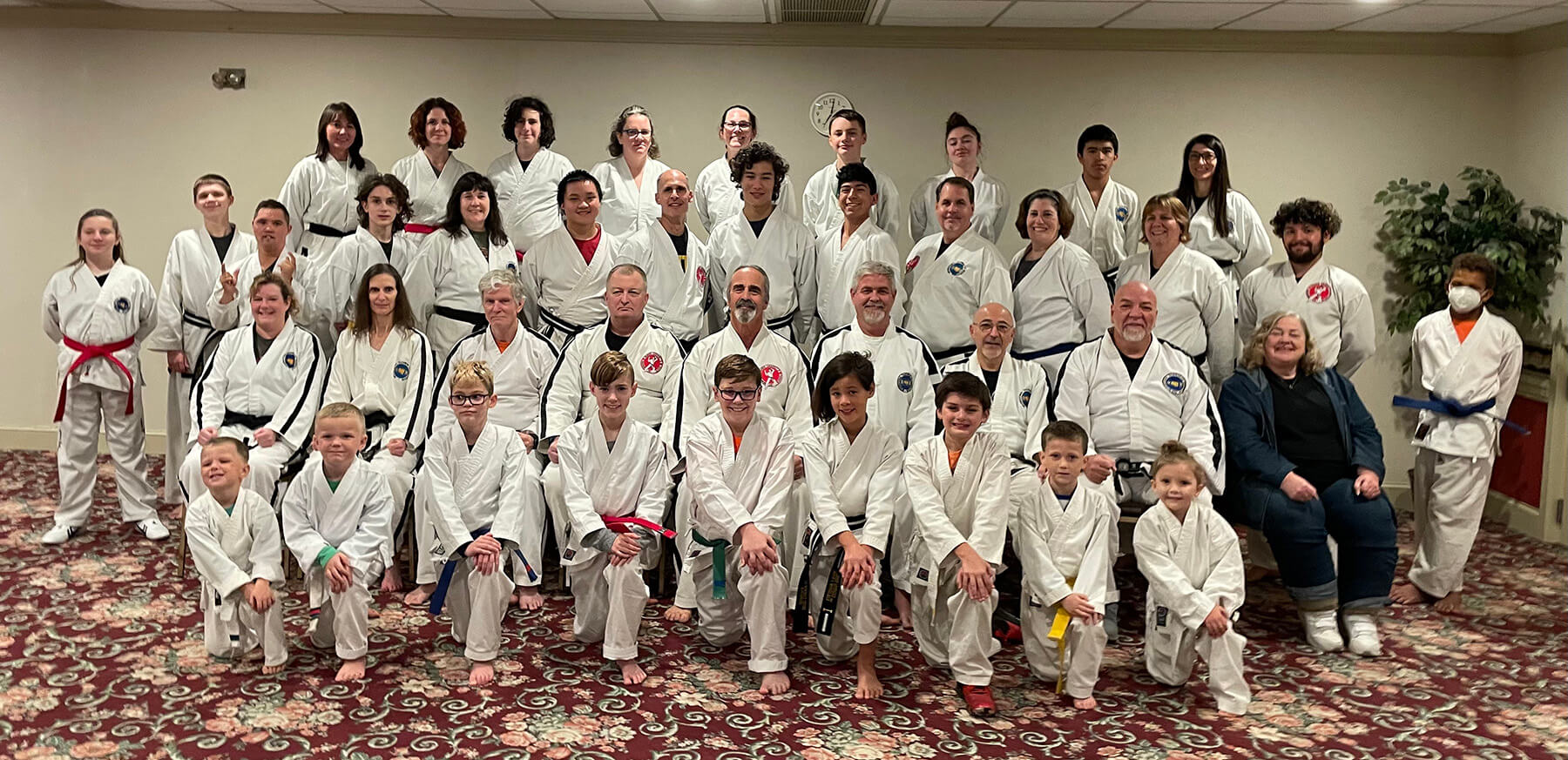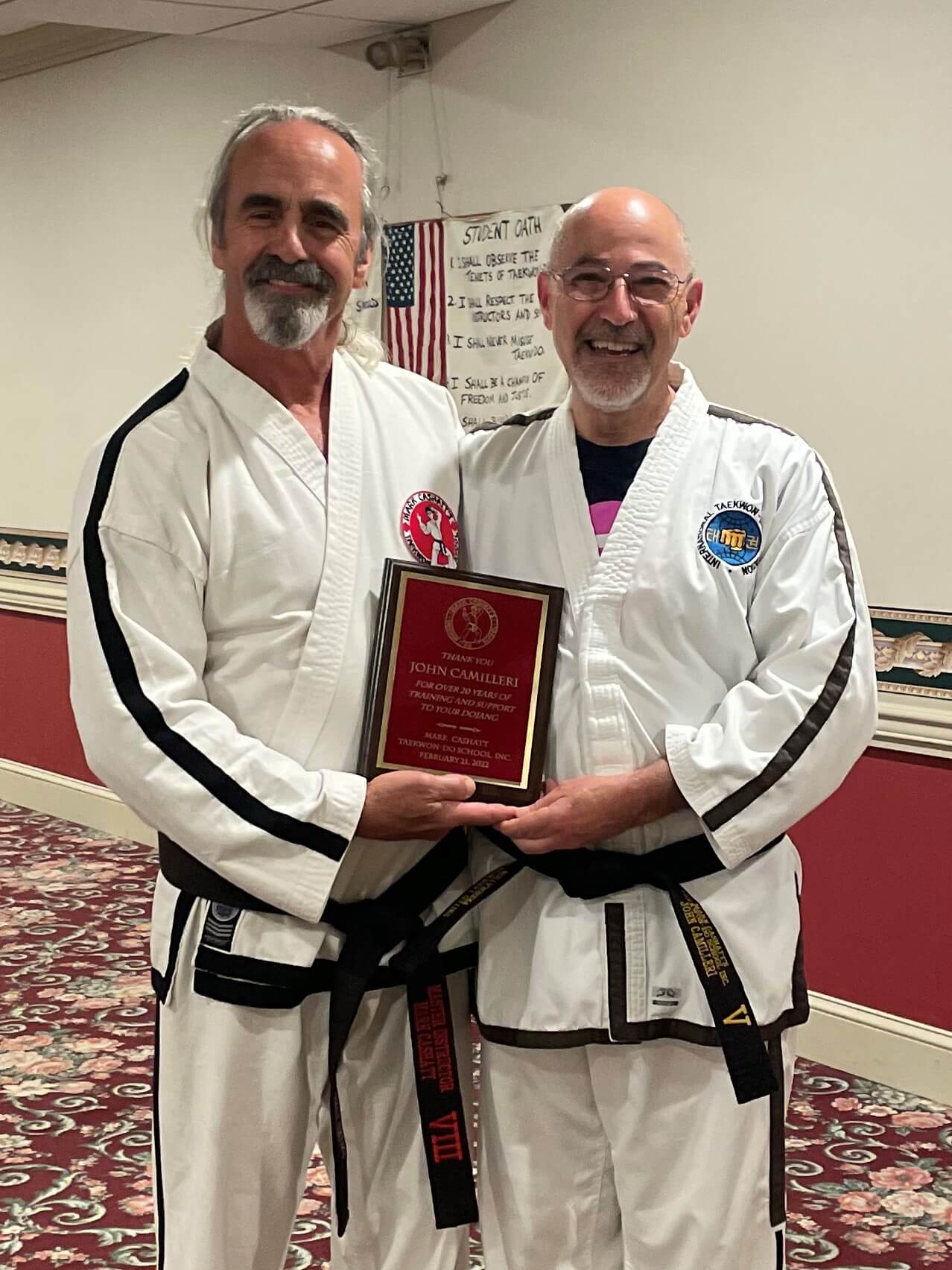 Congratulations to John Camilleri, 5th Dan for 20 years of training at Mark Cashatt's Tae Kwon Do!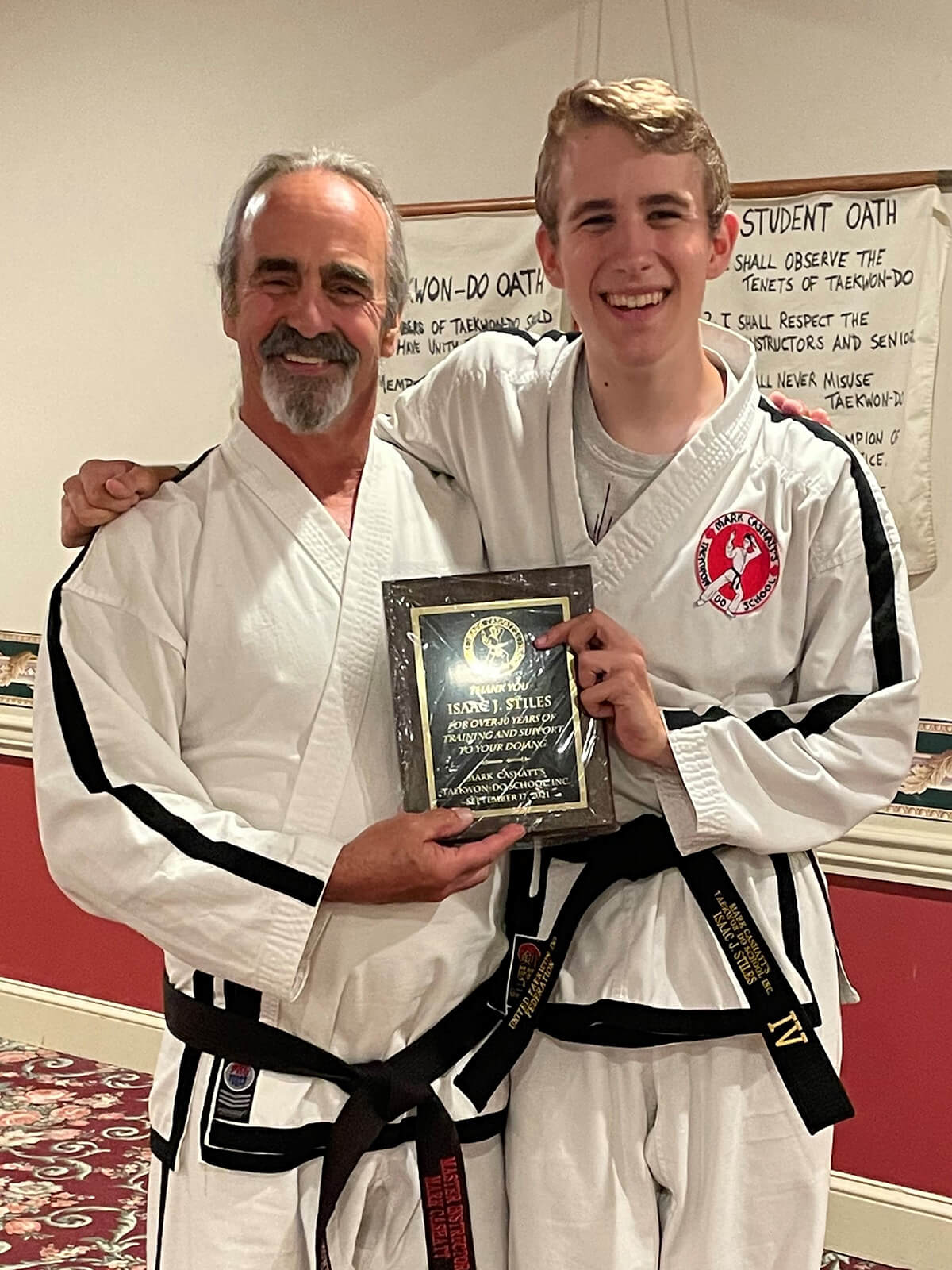 Congratulations to Isaac Stiles, 4th Dan for 10 years of training at Mark Cashatt's Tae Kwon Do!
2016 Tul Jon-Sa Opening Ceremonies
Some of our fine students performed to a Halloween classic.  Special thanks to Rich Hollenbach, Gary Apgar, Victoria Forbes, Isaac Stiles, Jodi Kaiser, Mia Pernie, Joey Carty and Tori Wolf.
Congratulations!
Congratulations on 20 years of keeping our Adopt-a-highway clean.  Since April of 2001, our students, families and friends have been helping at least 3 times a year to clean our highway route 113 from Allentown Road to Schoolhouse Road.  Pictured is our wonderful group on a beautiful morning, Saturday, October 30, 2021.  Thanks to all who helped!