You can now pay on line for tuition, testing fees, and other items which the dojang has to offer.
FRANCONIA HERITAGE RESTAURANT (Lower Level Banquet Room),
508 HARLYESVILLE PIKE, TELFORD, PA 18969     CALL 215-479-3440 NOW!!
Franconia Heritage Restaurant (Lower Level Banquet Room)
508 Harleysville Pike, Telford, PA  18969
Mention this website and receive a free month of classes! Offer only good for new students.
HELP CLEAN OUR HIGHWAY!  We have adopted route 113 from Allentown Road to Schoolhouse Road in Franconia.  We'll be cleaning our highway on Saturday August 3 starting at 7:30 am.  We'll meet in the Franconia Heritage Restuarant parking lot- wear strong shoes with toes covered and we'll supply gloves, orange vests and trash bags.  Participants under 12 must be accompanied by a parent or supervisor.  We'll conclude around 9 am – please contact Master Cashatt with any questions!
Click here for a waiver to be signed to attend a BUDDY NIGHT or SELF-DEFENSE CLASS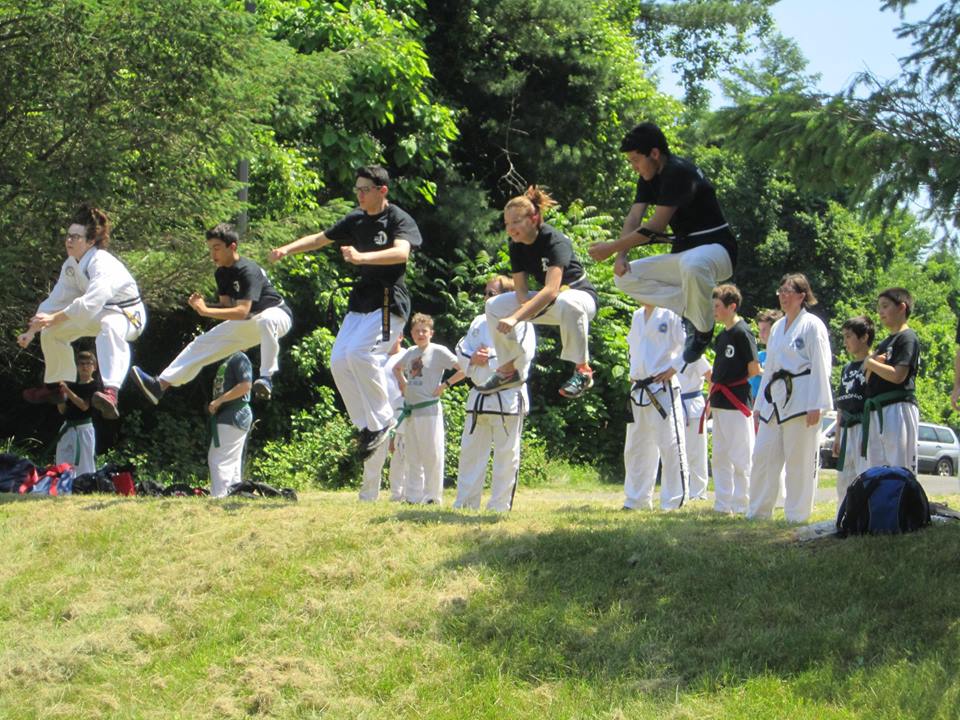 OUR DOJANG HAS MOVED!!
As of July 1, 2019 all our Taekwon-Do classes will be held at Franconia Heritage Restaurant, Lower Level Banquet Room,508 Harleysville Pike, Telford, at the intersection of Route 113 and Allentown Road.  Check our revised schedule here!

2018 DOJANG GROUP PICTURE
with alumni students visiting for our dojang's 30th Anniversary celebration Nov. 7, 2018.
Special guest of honor, 8th DAN Master Bill Lees also in the picture!
2016 Tul Jon-Sa Opening Ceremonies
Some of our fine students performed to a Halloween classic.  Special thanks to Rich Hollenbach, Gary Apgar, Victoria Forbes, Isaac Stiles, Jodi Kaiser, Mia Pernie, Joey Carty and Tori Wolf.