You can now pay on line for tuition, testing fees, and other items which the dojang has to offer.
FRANCONIA HERITAGE RESTAURANT (Lower Level Banquet Room),
508 HARLYESVILLE PIKE, TELFORD, PA 18969     CALL 215-479-3440 NOW!!
WE NOW HAVE 4 DIFFERENT WAYS TO TRAIN WITH OUR SCHOOL OF TAEKWON-DO!!
 We have an OUTDOOR CLASS on Wednesday 6-7 pm and Saturday 9:30-10:30 AM at Franconia Plastics parking lot, 675 Forman Road in Souderton.
We have INDOOR CLASSES Monday and Thursday 6-7 pm and 7-8 pm at Heritage Restaurant Lower Level Banquet Room.
Also contact Master Cashatt at 215-479-3440 for the links to our ZOOM ALL STUDENT TKD classes Tuesday 6:30-7:30 pm, Wednesday morning 9:30 am and we also have a ZOOM Black Belt class Wednesday 7:30- 8:30 pm.
You can access the 12 ONLINE TKD CLASSES below.
CALL 215-479-3440 AND TALK TO MASTER CASHATT TO REGISTER NOW!!
Mention this website and receive a free month of classes! Offer only good for new students.
WELCOME TO THE WEBSITE OF OUR WONDERFUL TAEKWON-DO SCHOOL- LET YOUR JOURNEY BEGIN!!
Please call 215-479-3440 with any questions.
Click here for a waiver to be signed to attend a BUDDY NIGHT or SELF-DEFENSE CLASS
SPECIAL THANKS TO OUR STUDENTS AND FAMILIES
WHO HELPED CLEAN OUR ADOPTED HIGHWAY Route 113 from Allentown Road to Schoolhouse Road on Saturday, July 11th:
GENE NEDEROSTEK, CHRIS STILLMAN, ADRIAN HIGGINS, ANN MALONE, JEN ROSENBLUM, ELLIE ROSENBLUM, RICH HOLLENBACH, MARK CASHATT, OWEN PURDY, MR. PURDY, DAN DOLAN, FAY DOLAN
OUR UATW (Ultimate Adult Taekwon-Do Weekend) IS OCT. 3-5, 2020
This will be our 20th year of holding a weekend for adults to practice and grow in Taekwon-Do.  It will be held at Camp Oak Hill in Nottingham, PA.  Participants will be practicing social distancing while having a well deserved and needed weekend of fun and training.  Please click here for more information and let us know you are attending!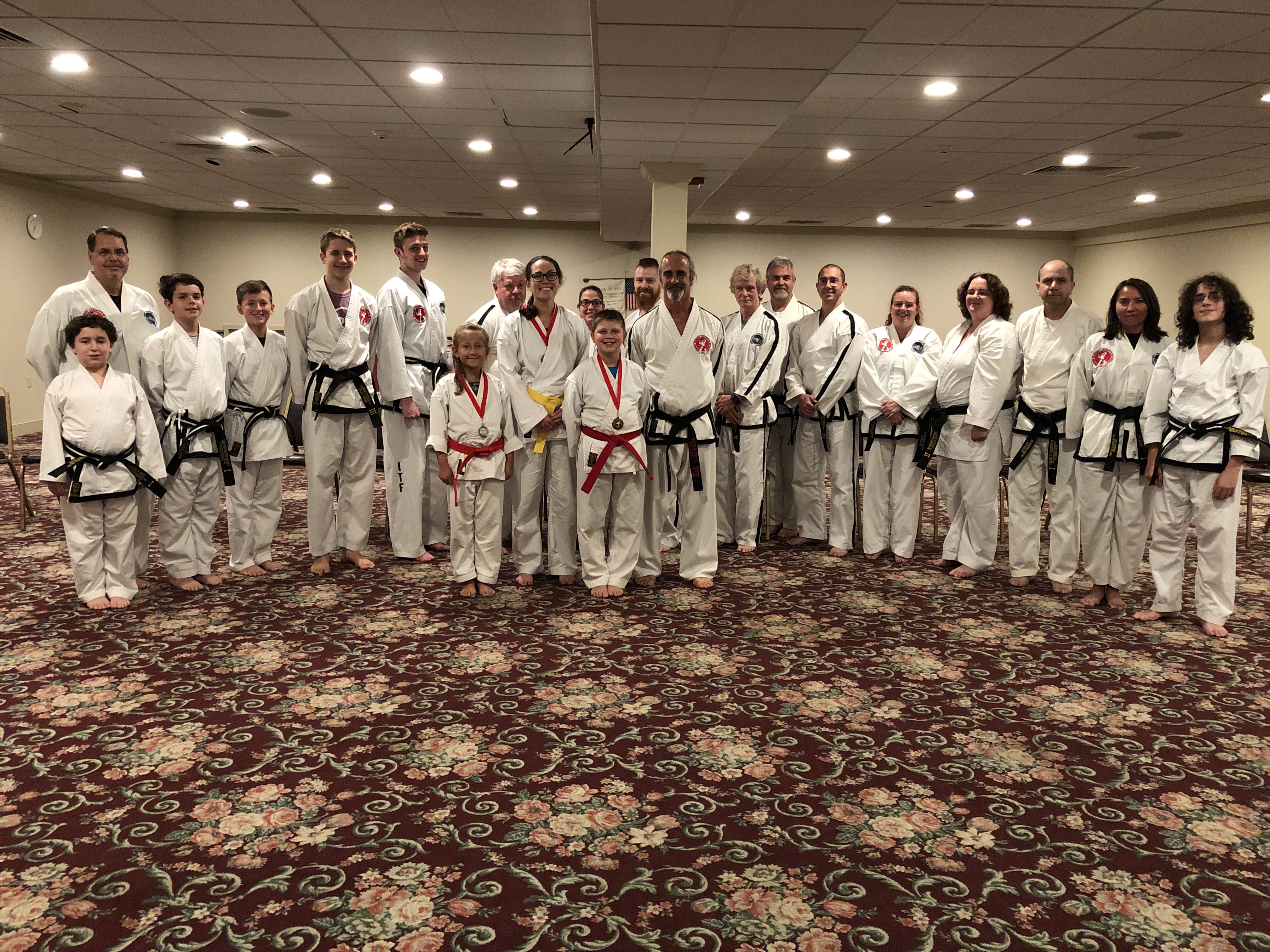 2019 DAN-GUN DAY COMPETITION
Over 4000 years ago, on October 3rd, the legend of DAN-GUN began as the noted founder of Korea, the birthplace of our Taekwon-Do.  On October 3, 2019 competition with the TKD Pattern DAN-GUN was held at the Franconia Heritage dojang.   Click on this website's HISTORY to see the list of DAN-GUN champions from throughout the years since we started the competition in 1990.  Added to this famous list are the three students standing amongst the Black Belt judges, from left to right: Peyton Anderson, Girl Youth Champion, Arianna Druckenmiller, Adult Champion and Sean Anthony, Youth Boy Champion for 2019!  Congragulations to the student and families!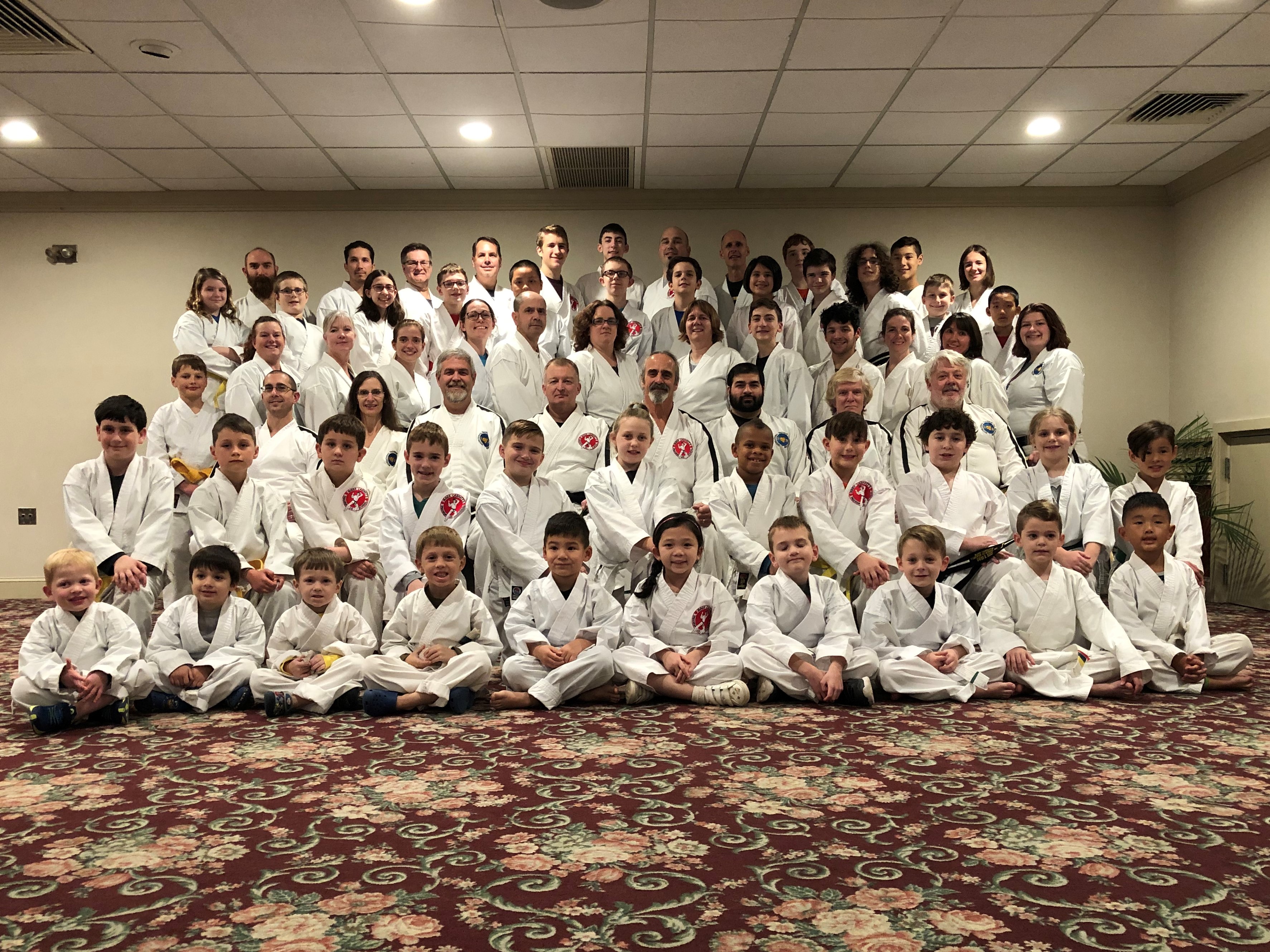 2019 DOJANG GROUP PICTURE
2016 Tul Jon-Sa Opening Ceremonies
Some of our fine students performed to a Halloween classic.  Special thanks to Rich Hollenbach, Gary Apgar, Victoria Forbes, Isaac Stiles, Jodi Kaiser, Mia Pernie, Joey Carty and Tori Wolf.