You can now pay on line for tuition, testing fees, and other items which the dojang has to offer.
2022 Tul Jon-Sa
This year's Tul Jon-Sa(Pattern Champion Competition) is scheduled for Saturday, December 10 at the Franconia Heritage Restaurant Lower Banquet Room.  Go here for details and to sign up.
WELCOME TO THE WEBSITE OF OUR WONDERFUL TAEKWON-DO SCHOOL- LET YOUR JOURNEY BEGIN!!

Please call 215-479-3440 with any questions.
Click here for a waiver to be signed to attend a BUDDY NIGHT or SELF-DEFENSE CLASS
Click here for our BASIC SELF-DEFENSE BOOKLET
______________________________________________________________________
 UPCOMING EVENTS
Saturday, December 3, 2022 we are walking in the SOUDERTON HOLIDAY PARADE and we need all the help you can give!!  We meet at Grace Bible Church parking lot at 10:30 AM for the parade which starts from that point at 11 am.  Participants can be picked up at the other end which is Broad Street and School Lane.  We'll be talking about this in class.  Families are invited to walk with us.  We need all the PARTICIPANTS we can get!!  Not only is this another way of celebrating the holidays with your TKD family, but it gives folks a chance to see that our dojang exists and we are welcoming new students!  Let Master Cashatt know if you'll join us.
Saturday, December 10, 2022 we will have our TUL JON-SA! (Pattern Competition) at the Franconia Heritage Restaurant Lower Level Banquet Room.  This is for all students!!  Participants will be divided in to small groups depending on age and rank.  1st, 2nd and 3rd place medals will be awarded.  Then all the 1st place finishers go against each other until we have one GUP (color belt) Champion and one BLACK BELT Champion.  Attached is a sponsor letter that you and your family might use to ask businesses your family deals with who might like to sponsor our event.  Please help us to make this event a success.  If you or your students cannot attend the TUL JON-SA, you can still personally help out by being a "Friend of the TUL JON-SA" and get your name in the program guide.  Thanks!
Saturday, December 17, 2022  Adopt-a-Highway Clean-up from 10:45 AM- noon.    Please let me know if you plan on attending.  All participants 12 and under must have an adult in charge of watching them.  Dress for the weather and we'll supply the gloves, orange vests and trash bags.  Students can use this time towards their 6 hours of community service requirement for 3rd DAN.
2023 Black Belt Spring Training Weekend at Camp Innabah is scheduled for April 14-16, 2023.  Look for more details come the new year.
2023 UATW (Ultimate Adult TKD Weekend) at Camp Oak Hill is scheduled for October 6-8, 2023.
__________________________________________________________________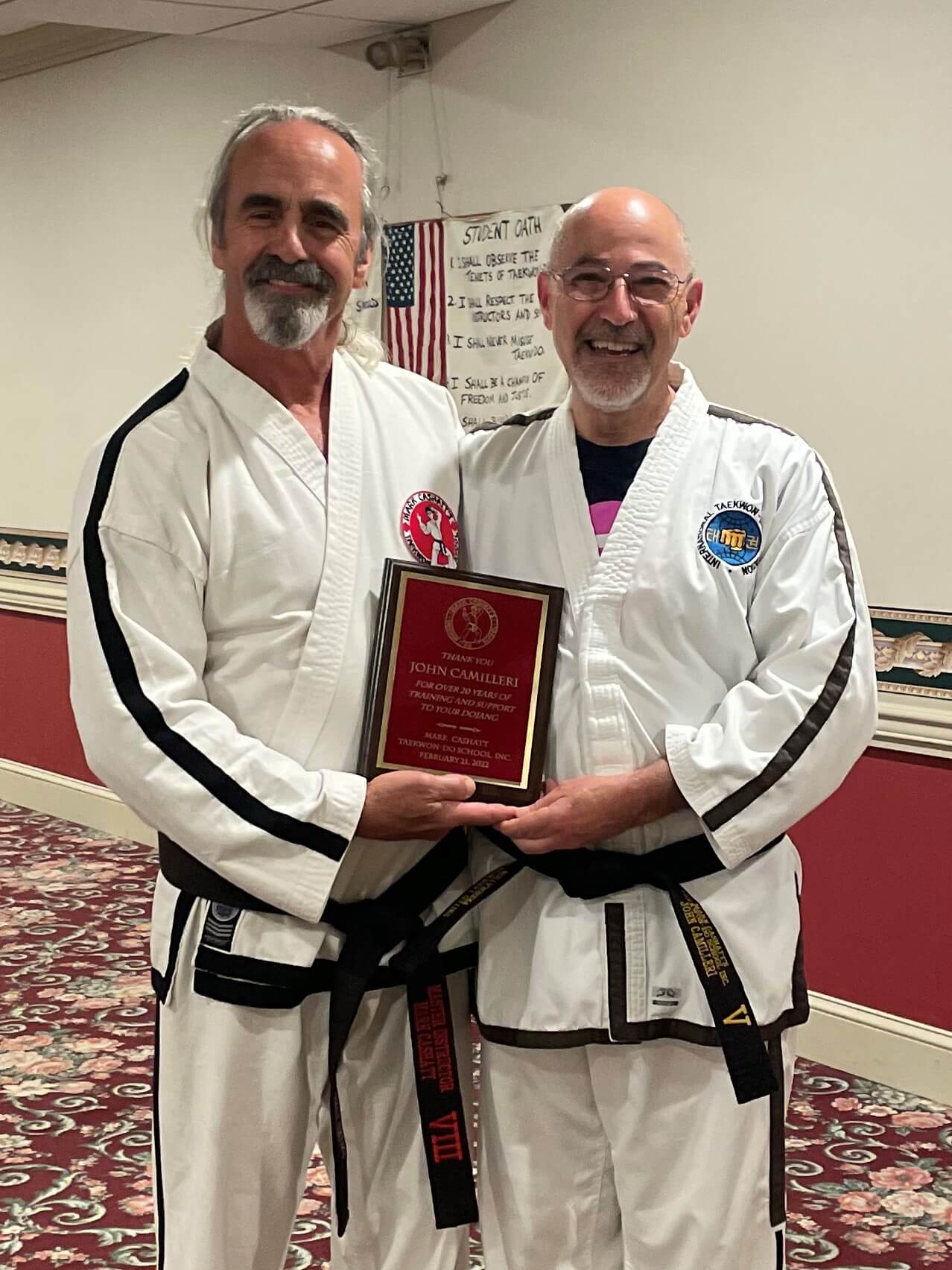 Congratulations to John Camilleri, 5th Dan for 20 years of training at Mark Cashatt's Tae Kwon Do!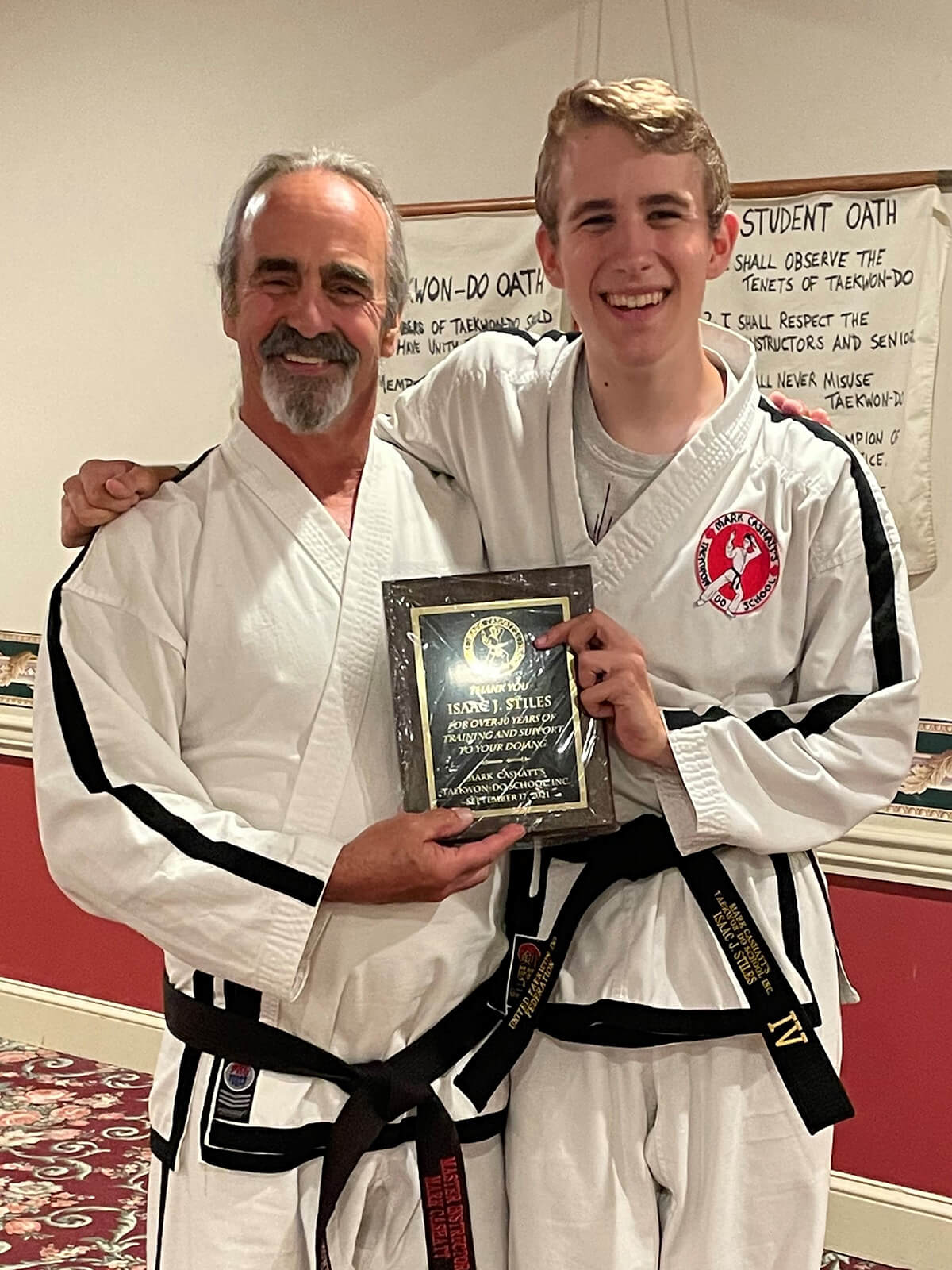 Congratulations to Isaac Stiles, 4th Dan for 10 years of training at Mark Cashatt's Tae Kwon Do!
2016 Tul Jon-Sa Opening Ceremonies
Some of our fine students performed to a Halloween classic.  Special thanks to Rich Hollenbach, Gary Apgar, Victoria Forbes, Isaac Stiles, Jodi Kaiser, Mia Pernie, Joey Carty and Tori Wolf.
Congratulations!
Congratulations on 20 years of keeping our Adopt-a-highway clean.  Since April of 2001, our students, families and friends have been helping at least 3 times a year to clean our highway route 113 from Allentown Road to Schoolhouse Road.  Pictured is our wonderful group on a beautiful morning, Saturday, October 30, 2021.  Thanks to all who helped!