You can now pay on line for tuition, testing fees, and other items which the dojang has to offer.
FRANCONIA HERITAGE RESTAURANT (Lower Level Banquet Room),
508 HARLYESVILLE PIKE, TELFORD, PA 18969     CALL 215-479-3440 NOW!!
WE NOW HAVE 4 DIFFERENT WAYS TO TRAIN WITH OUR SCHOOL OF TAEKWON-DO!!
We have classes Monday, Wednesday and Thursday 6-7 PM and 7-8 PM, and Saturday morning 9:30-10:30 AM at Heritage Restaurant Lower Level Banquet Room.  We also feature TIGERS class (age 4-6) Thursdays from 5:25-5:55 pm.
We have ZOOM ALL STUDENT TKD classes Monday 6-7 pm & 7-8 pm, Wednesday All Students 6-7 pm, Red Belt and Above class Wednesday 7- 8 pm, Thursday 5:25 pm TIGERS, 6-7 pm ALL STUDENTS.  Check weekly email or text Master Cashatt for ZOOM Invitation numbers.
Master Cashatt also offers PRIVATE LESSONS to be held at the student's desired location (backyard, park, basement?)  $40 for 30 minute lesson.  Contact Master Cashatt for more information. 215-479-3440
You can access the 12 ONLINE TKD CLASSES below.
CALL 215-479-3440 AND TALK TO MASTER CASHATT TO REGISTER NOW!!
Mention this website and receive a free week of classes! Offer only good for new students.
WELCOME TO THE WEBSITE OF OUR WONDERFUL TAEKWON-DO SCHOOL- LET YOUR JOURNEY BEGIN!!

Please call 215-479-3440 with any questions.

Click here for a waiver to be signed to attend a BUDDY NIGHT or SELF-DEFENSE CLASS
Click here for our BASIC SELF-DEFENSE BOOKLET

October 30, Saturday, 10:45 AM we will meet at Heritage parking lot to clean our Adopt-a-highway.  We'll be finished by noon.  All students and families invited.  Those 12 and under must have an adult in charge.
November  11,  Thursday, Indian Valley Middle School at 6:30-7:15 pm I will be leading "Family Self-Defense" class.  You can sign up if you like through SACE (Souderton Area Community Education) 215-721-1551
November 17, Wednesday, 2021 DOJANG GROUP PICURE!!  If you trained at our dojang this past year or in the past you are invited to be in the picture.  All students should be present by 6:50 pm to line up for our (what will be) legendary picture.  Students should be in full dobuk and wearing a mask.  Families are invited to take pictures as well….maybe take additional pictures of your child with his or her buddies or instructors.  There will be the usual class at 6 pm, just ending a bit early, and there will be a Red Belt and above class following until 8 pm.
November 21, Sunday at 1 pm we will have a Black Belt Test in the upper level Banquet rooms at the far left side of the Heritage complex.  All students and families are invited to attend.  Please let me know if you plan on attending so I can make sure we have enough chairs.
2020 DOJANG GROUP PICTURE
(Socially Distant due to Covid-19)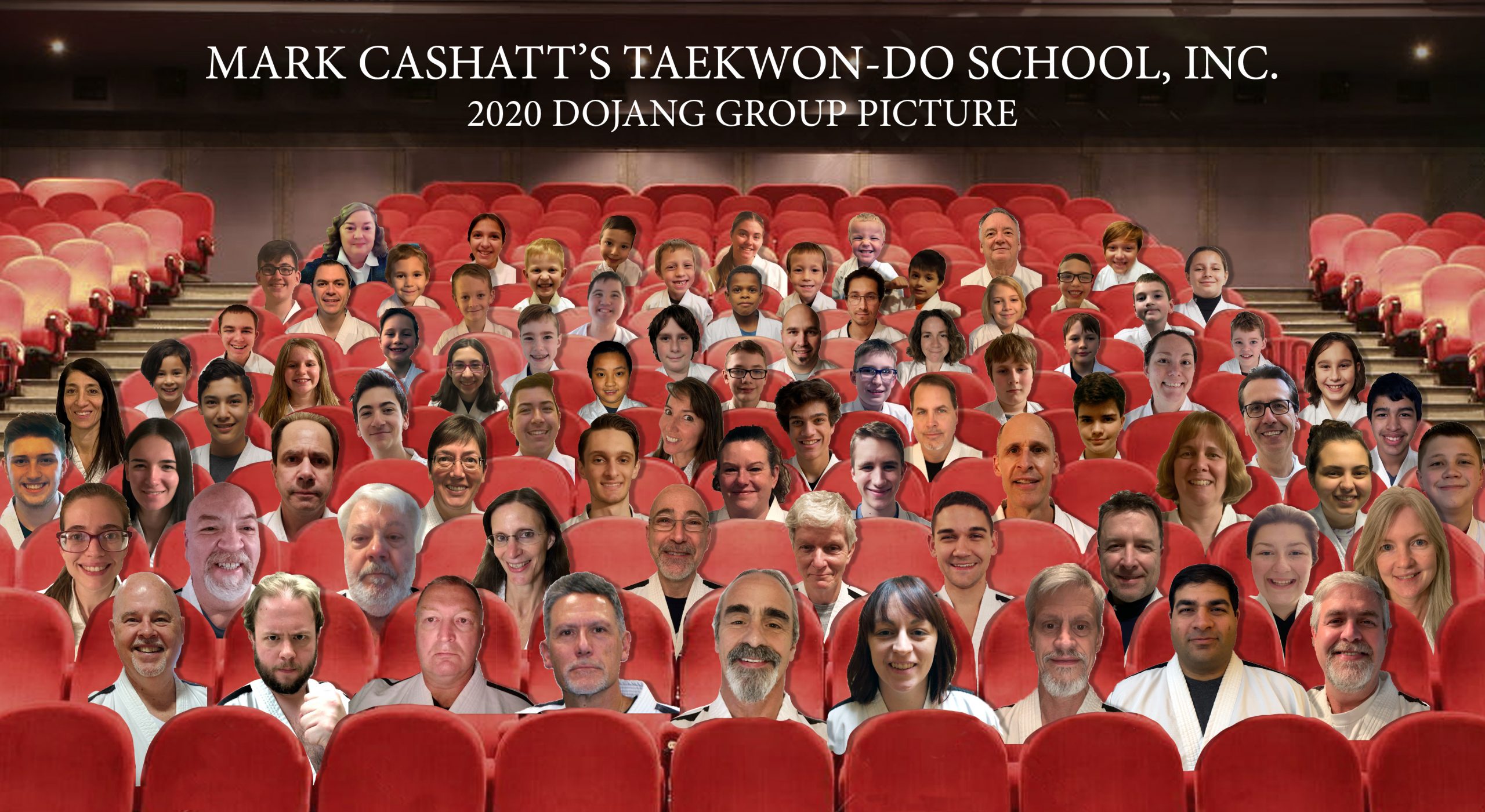 2016 Tul Jon-Sa Opening Ceremonies
Some of our fine students performed to a Halloween classic.  Special thanks to Rich Hollenbach, Gary Apgar, Victoria Forbes, Isaac Stiles, Jodi Kaiser, Mia Pernie, Joey Carty and Tori Wolf.
Congratulations!
On Thursday, October 6, 2021 at Mark Cashatt's Taekwon-Do School, Inc. in Franconia, a competition in performing the TKD pattern "DAN-GUN" was held in honor of the Birthday of Dan-gun, legendary founder of Korea, land that brought us Taekwon-Do.  In the foreground from left to right is Adult Champion Kim Dustin, Teenage Champion Aaron Milazzo, Youth Girl Champion Terese Baran and Youth Boy Champion Nikky Druckenmiller.  Congratulations to these 2021 Champions!!