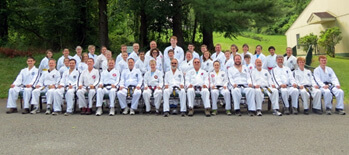 2022
Black Belt Spring Training Weekend
Taekwon Fellow Black Belt,
Welcome to the other side of the lockdown. In the past two years we have all grown in so many ways. Hopefully our Taekwon-Do training hasn't suffered and if it did or if you have been keeping up, this might be the weekend for you.
I'd like to invite 33 Black Belts to this BLACK BELT SPRING TRAINING I have planned at Camp Innabah. Branching off the idea of Sam-il (the 33 movements represent for the 33 patriots who planned the Korean Independence Movement, March 1, 1919), I picked 33 as the number of participants…..not that we are going to start any kind of Independence Movement…..except our independence from not being up to par in our training!
My goal is to give lots of good training and instruction in the atmosphere of those who persevered to become Black Belts and for those who plan to keep TKD in the lives forever. I'm hoping for a chance unlike any other event where Sabanims can get everything they want in a weekend.
Although we all come from different dojangs and different instructors, we can share our knowledge as we pick apart the exceptional patterns of General Choi Hong Hi's Taekwon-Do.
It will be a busy weekend– one that if you plan on attending, you should up your cardio and endurance training a bit before you come to get the most out of the weekend.
Registration is open for all Sabanims first. All 4th DAN and above who wish to attend should register by January 22, 2022. The two weeks after that 3rd DANs can register, then 2nd and 1st DANs until we have 33 participants, registration will close. I want to keep it small and intimate.
Hope you can make it,

About the Weekend
Located on 179 acres in the foothills of the Pocono Mountains, the 2020 Black Belt Spring Training at Camp Innabah is an ideal place to hold the TaeKwon-Do event of the year! The Camp starts Friday April 8. Check in starts at 5 pm. Black Belts follow directions to the camp, enter the parking lot, and check in to Bethany Lodge. From this point on, Black Belts will have wonderful meals cooked by professional chefs, at least 10 hours of TaeKwon-Do training, along with challenges and fun with their fellow Black Belts. The camp concludes on Sunday, April 10th at 12 noon. Sunday's lunch is included. The camp costs $350 for 5 meals including Sunday lunch, lodging and all the wonderful instruction.
Students will sleep in a lodge with rooms that sleep 4-8 participants. During class times, Black Belts should be prepared with a drink container to keep hydrated. We will cover most all the aspects of Taekwon-Do training so be prepared! It's going to be exciting, educational and fun.
Please contact Master Cashatt directly at 215-479-3440 with questions.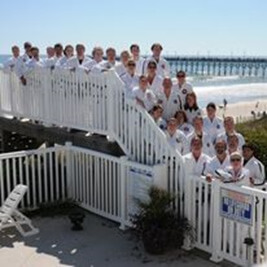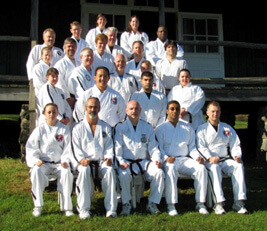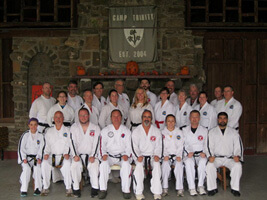 Please fill out the registration form below.  Once you submit it, you will be taken to the payment page if you would like to pay online.